New York Car service Explore the Big Apple in Style!
Looking for a reliable and luxurious car service in New York? Look no further than AA Limo Worldwide, the premier choice for transportation in the Big Apple. With a fleet of top-of-the-line vehicles and a team of experienced drivers, we are committed to providing you with the best possible transportation experience.
When it comes to luxury transportation in the heart of New York, AA Limo Worldwide stands out as the ultimate choice for those seeking unparalleled comfort, style, and sophistication. With a legacy of delivering top-tier transportation solutions to clients across New York and beyond, our dedicated team of chauffeurs is committed to ensuring every client experiences a journey that's safe, seamless, and unforgettable. Whether you're in need of a reliable airport transfer, an elegant ride for a special occasion, or a comfortable way to navigate the bustling streets of New York, NY Car Services has your needs covered.
Extensive City Coverage
Our unwavering commitment to comprehensive city coverage sets us apart as the premier car service in New York. We understand the importance of seamless urban travel, which is why we cater to all major neighborhoods and areas within New York City. 
From the iconic Manhattan skyline to the vibrant boroughs of Brooklyn, Queens, and beyond, NY Limo Excellence has your transportation needs covered. Whether you're arriving at JFK, LaGuardia, or Newark Liberty International Airport, rest assured that our experienced chauffeurs are monitoring your flight schedule to ensure punctuality.
NY Limo Excellence is synonymous with luxurious and stress-free transportation, be it for a business meeting, a leisurely visit, or any other occasion. Trust us for a smooth start or finish to your journey, allowing you to focus on your priorities while we handle the logistics with precision and care.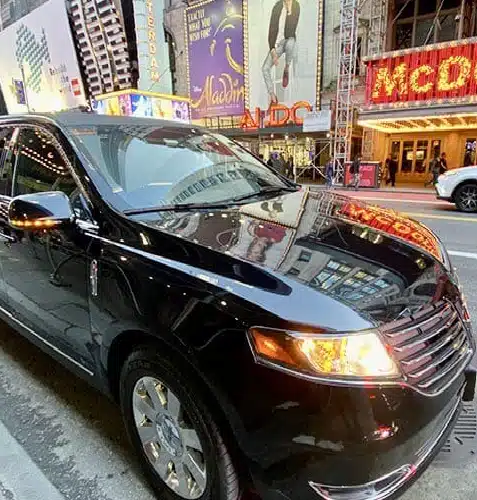 Serving the Heart of the City
Our Limo Transportation proudly serves the heartbeat of New York City. From the bustling streets of Times Square to the cultural gems of the Upper East Side and the diverse neighborhoods of Harlem, our commitment to enhancing your New York experience is unwavering. 
We believe in providing not just transportation, but an entryway to the captivating essence of New York City. Our services extend to every corner of this dynamic metropolis, ensuring you can explore its iconic landmarks, cultural hotspots, and hidden gems in ultimate comfort and style.
AA Limo Worldwide is more than a transportation service – it's your ticket to the soul of New York City. We understand the importance of connectivity within this vibrant urban landscape and are dedicated to providing top-notch car services to residents and visitors alike. Whether it's a special occasion, airport transfer, or an exploration of the city's wonders, count on us to exceed your expectations.
Luxury Redefined
Our luxurious New York car service fleet is meticulously curated to cater to diverse preferences and requirements. From sleek Sedans to spacious SUVs ideal for group travel, our range of vehicles offers you the flexibility to match your style and enjoy an elevated experience.
Immerse yourself in a world of opulence and relaxation. Our fleet boasts plush seating, climate control, and top-of-the-line amenities, ensuring you travel like royalty. Traverse New York's vibrant streets with the confidence that your comfort is our priority.
Each vehicle undergoes rigorous maintenance to guarantee pristine condition for your journey. Your safety and satisfaction are paramount, and we leave no stone unturned in providing a secure, dependable, and stylish ride. Elevate your travels with our impeccably maintained fleet for New York car service, adding an extra touch of grandeur to your journey.
Professional Chauffeurs
Our professional chauffeurs transcend the role of drivers at New York car service they are experts in the art of impeccable service. Trained to the highest standards, they deliver a seamless, secure, and luxurious ride, transforming your journey into a memorable experience.
Punctuality is a core value for our chauffeurs. With a commitment to timeliness, they'll be at your service promptly, ready to cater to your needs. Polite and attentive, they prioritize your well-being, ensuring a journey that's seamless and enjoyable.
Our chauffeurs embody professionalism in every sense. Discreet and reliable, they respect your privacy, curating a serene and confidential environment during your travels. Their expertise and dedication offer you peace of mind, knowing you're in the hands of consummate professionals, whether it's a special event, airport transfer, or any other venture. 
Affordable Elegance
At AA Limo Worldwide, we believe that luxury travel should be accessible without compromise and we are providing best New York car service . Hence, we offer competitive pricing across all our services. Our commitment to affordable elegance ensures you can indulge in the opulence of a premium car service without straining your budget. 
Competitive Rates: Experience the best of both worlds with our transparent and reasonable rates. We as a New York car service deliver top-quality car services that are accessible to a diverse range of clients.
We maintain uncompromising service standards, ensuring you receive a lavish experience across our well-maintained fleet and from our professional chauffeurs, all while staying within your budget. With NY Limo Excellence, luxury becomes an affordable choice that enriches your travel adventure.
Unmatched Services, Unrivaled Comfort
From corporate engagements to weddings, wine tours to theater nights, our comprehensive range of New York car service caters to every occasion. Our refined fleet, including sedans, SUVs, and luxurious limos, ensures both comfort and style, while our professional chauffeurs provide an experience that's truly seamless. Embark on captivating city tours and sightseeing experiences across the Big Apple, and revel in carefree journeys to events, concerts, and more.
With years of expertise, our team understands the nuances of your unique needs. Our personalized services are tailored to weddings, corporate events, and special moments. Trust us for punctuality, professionalism, and a commitment to safety. Choose our  New York car service for exceptional transportation that harmonizes luxury, affordability, and personalized refinement, making your journeys truly extraordinary.
Transportation In New York Car Services
At AA Limo Worldwide, we understand that your time is valuable, which is why we strive to provide punctual and reliable service every time. Our drivers are all fully licensed and insured, and they know the streets of New York like the back of their hand, so you can sit back and relax knowing that you are in good hands.
But our commitment to excellence doesn't stop there. We also believe in providing our customers with the highest level of comfort and luxury possible. That's why all of our vehicles are equipped with top-of-the-line amenities, such as plush leather seating, climate control, and premium sound systems. We even offer complimentary Wi-Fi, so you can stay connected while you ride.
At AA Limo Worldwide, we believe that luxury transportation should be accessible to everyone. That's why we offer competitive pricing and a range of flexible payment options. Whether you need a one-time ride or regular transportation services, we will work with you to create a plan that fits your budget and your needs.
Discover New York's Pinnacle Car Service. Secure Your Luxurious Voyage with NY Limo Excellence Today and Arrive in Elegance!