LaGuardia Airport, New York Car Service
Arrive in comfort with our LaGuardia car service
Experience the

LaGuardia Airport Car Service

Ultimate in Comfort Luxurious
As frequent business travellers, we know how exhausting air travel can be. The hassles of navigating airport terminals, waiting in endless queues, and dealing with delays quickly take their toll. When we finally emerge from the airport, the last thing we want is more stress and uncertainty. LaGuardia Airport car service is a reliable and professional car service, crucial for airport transportation to ensure a stress-free and comfortable journey. Our limo service LaGuardia airport in New York, providing our clients with the ultimate transportation experience. Your journey should begin and end in comfort. Our limo service LaGuardia airport in New York is designed to provide a seamless transfer experience from the moment you arrive. Find your best limousine car service in New York.
With a meticulously maintained fleet, experienced chauffeurs, and a steadfast commitment to on-time performance, we aim to eliminate the stress and fatigue of travel so you can focus on what matters. For us, your comfort and satisfaction are top priorities. Our goal is to ensure that from the second you step into one of our luxury vehicles, you only need to worry about enjoying the ride.
How to Book

LaGuardia Airport Car Service

?
As a luxury limousine provider, we offer limo service LaGuardia airport in New York, providing our clients with the ultimate transportation experience. First, Book Online your LaGuardia Airport Car Service. We monitor flight schedules in real-time, enabling us to advise you of precise departure and arrival times so you can maximize your time. Our chauffeurs arrive 10 minutes early and courteously wait until you are ready to depart. From curbside pickup to swiftly escorting you through check-in and security, our seamless service is designed so you can sit back and enjoy the journey.
As your guide, your experience begins when you enter our vehicle. Let us elevate your journey into an oasis of luxury, leaving you revived and ready to embark on discoveries. Our LaGuardia airport car service redefines excellence, transforming transportation into a captivating part of the story. The possibilities are endless; your journey awaits.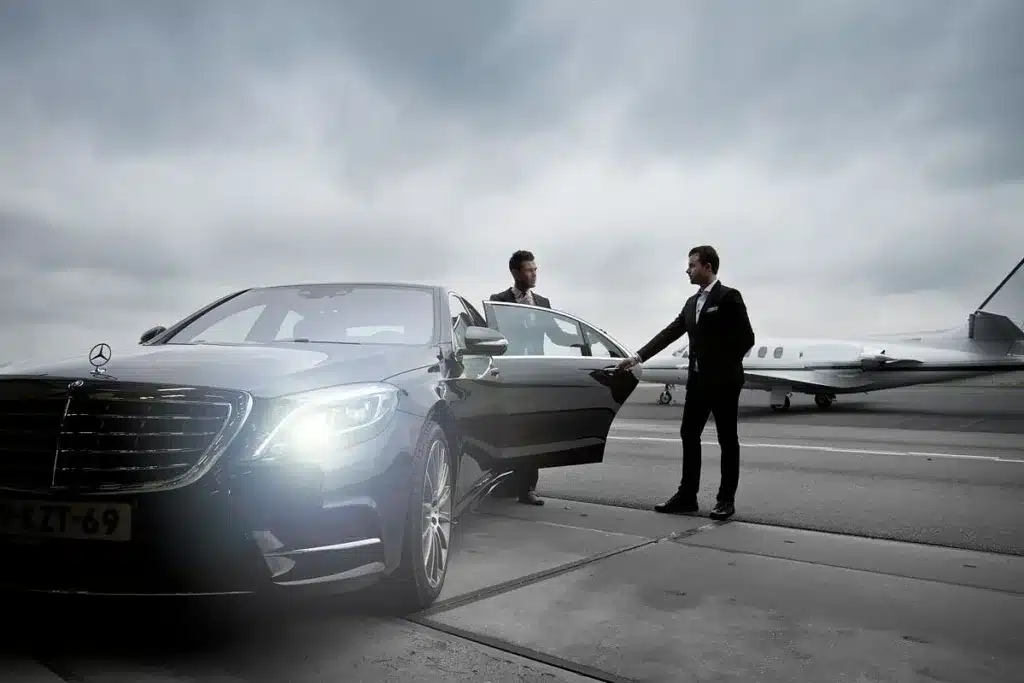 Why choose Limo Service

LaGuaurdia Airport

?
We know that seamless coordination and communication are integral to providing a luxury, personalized experience. Our cutting-edge technologies, dedicated staff, and meticulous operations allow us to expertly handle all aspects of your journey so you can sit back, relax, and enjoy the ride Our refined airport transfer service epitomizes luxury, comfort and efficiency—all to ensure your trip begins and ends without a hitch.
We pride ourselves on providing limo service LaGuardia Airport a seamless booking experience and coordinating all aspects of your journey. Our dedicated reservations team is available 24 hours a day, 7 days a week to assist you with booking and managing your airport transfers. You have the flexibility to select the ideal vehicle tailored to your precise transportation requirements, whether it be for JFK Airport car service, Newark Airport car service, Houston Airport Transportation Services or  LaGuardia Airport car service.
How our Professional Chauffeurs will assist you at

LaGuardia Airport?
As professional chauffeur providers, our chauffeurs are highly trained professionals dedicated to providing our clients with an exceptional experience. We hire only the most qualified candidates with proven skills in communication, safe driving practices, and anticipating the needs of our passengers. Our chauffeurs undergo extensive background checks and screening to ensure the highest standards of excellence.
Our chauffeurs are always courteous, professionally attired, and committed to the utmost discretion and confidentiality. Their performance is rigorously monitored through client satisfaction surveys, unannounced audits, and covert "mystery passenger" evaluations to guarantee that every aspect of our service meets or surpasses our client's expectations.
Our Professionals Team  understands that travelling, especially air travel, can be stressful and tiring. We aim to alleviate as much hassle and complication as possible. Our chauffeurs monitor flight schedules in real-time and are ready and waiting for passengers as soon as they deplane. Should any unforeseen delays or schedule changes occur, our chauffeurs remain at the airport to provide our clients door-to-door service, no matter the hour.
The allure of travel lies in the potential for new experiences, but the means of getting there should be balanced with that enjoyment. We aim to make your journey through the airport and onward as seamless and pleasurable as possible. Our professional chauffeurs are dedicated to providing our clients with the highest personalized service. Allow our chauffeurs to navigate you to your final destination so you can sit back, relax, and enjoy the luxury of travel.
AA Limo Worldwide

Fleet of Luxury Vehicles for a Refined Ride
We feel happy in providing our clients with an unparalleled fleet of luxury vehicles to ensure the utmost comfort during their journey. Our Fleet of luxury Vehicles for a Refined Ride.
We offer an array of high-end vehicles to suit any taste or group size. Our premier options include the Cadillac XTS, Lincoln Continental, Cadillac CT6, Cadillac SUV, Chevrolet SUV, and Mercedes Sprinter. Each vehicle provides tranquillity and is outfitted with superior amenities to cater to our client's needs.
The Cadillac XTS sedan accommodates up to five passengers in the lap of luxury. With adjustable leather seats, customizable climate control, and a state-of-the-art sound system, the XTS provides an unforgettable travel experience.
Our Mercedes Sprinter van comfortably seats up to 14 guests for larger parties. The Sprinter offers multiple configuration options, flat-screen televisions, reclining seats and hardwood flooring for the ultimate ride.
We attending to the finer details and providing premium amenities cultivates an elevated client experience. Our vehicles feature complimentary Wi-Fi, charging stations, reading lights, sunroofs and stocked refreshment centres. We aim to anticipate our clients' every desire and need to ensure a stress-free journey in the comfort of a luxury vehicle.
Through our meticulously maintained fleet and unwavering dedication to service excellence, we provide a refined travel experience that begins when you enter one of our luxury vehicles. Our clients can rest assured that every aspect of their transportation needs will be handled by our experienced team with the utmost professionalism, care and discretion. Allow us to provide a luxury airport transfer service in one of our luxury vehicles for a refined ride to your final destination.
Choose AA Limo Worldwide & Sedans For Your LaGaurdia Airport Car In Nyc & Experience The Ultimate In Luxury Transportation.

Contact Us Today To Book Your Ride.