Jacksonville Airport Transportation Service
AA Limo Worldwide provides an affordable limousine and black car service.
We are regarded as the leading airport transportation service Jacksonville has to offer. All of our airport transfers are done with the latest model luxury sedans. Our customers enjoy bottled water and current newspapers in our non smoking vehicles. Our professional, uniformed chauffeurs are prepared to meet and exceed our clients' expectations of quality service. Our rates, which are lower than the prices charged by many taxi cabs and shuttle services make our airport transportation service the preferred transportation service by local Jacksonville residents as well as countless out-of-state visitors traveling for business or pleasure.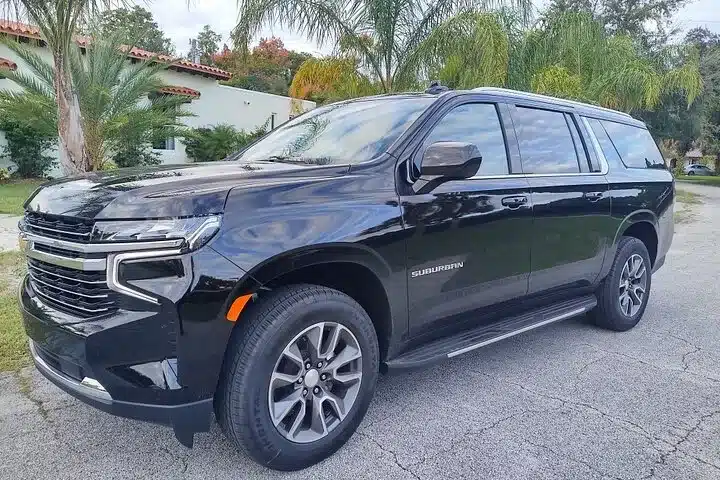 AA Limo Worldwide

Jacksonville Airport Transportation Service Includes
Our Fleet Service for Jacksonville Airport
AA Limo Worldwide takes immense pride in maintaining a fleet of the latest model luxury sedans, SUVs, Sprinters and Coaches. Our vehicles are meticulously chosen to provide the utmost comfort, style, and safety to our valued passengers. Whether you're traveling solo or with a group, our diverse fleet ensures that you'll find the perfect vehicle for your needs. AA Limo Worldwide offers a selection of coaches that redefine group travel. Our coaches provide an elevated level of luxury, featuring plush seating, advanced entertainment systems, and ample space for larger groups. With meticulous attention to vehicle selection, a focus on comfort and safety, and a commitment to accommodating different travel preferences, our fleet is a testament to our dedication to delivering unparalleled travel experiences for our valued passengers.
Chauffeur Service Jacksonville Airport
At AA Limo Worldwide, our commitment to exceptional service begins with our professional and courteous chauffeurs. Our chauffeurs are not just drivers; they are trained to provide a refined and personalized experience. They arrive promptly, dressed in smart uniforms, and are ready to assist you with your luggage and any other needs you might have during your journey. At AA Limo Worldwide, our chauffeurs understand that they are not just drivers, but also ambassadors of our brand and the experience we offer. Their dedication to customer satisfaction, combined with their commitment to safe and elegant transportation, makes them an integral part of the exceptional service we pride ourselves on. From the initial greeting to the final drop-off, our chauffeurs are dedicated to making your journey with us a truly memorabl  one, characterized by professionalism, courtesy, and a genuine passion for ensuring your complete satisfaction.
Black Car Service for Jacksonville Airport
Our black car service is synonymous with sophistication and luxury. When you choose AA Limo Worldwide, you're choosing a transportation experience that is marked by elegance and class. Our black car service is perfect for those seeking a seamless and comfortable ride to and from the airport. Whether you're on your way to the airport or returning from a long journey, our black car service guarantees a level of comfort that aligns perfectly with your expectations. It's more than just a ride; it's an experience marked by the attentive service of our professional chauffeurs, the understated luxury of our vehicles, and the dedication to making your journey as smooth and enjoyable as possible.At AA Limo Worldwide, we recognize that choosing a transportation service is about more than just getting from point A to point B. It's about making a statement, embracing an elevated experience, and arriving at your destination feeling refreshed and pampered. Our black car service is the embodiment of this philosophy - a commitment to providing a transportation solution that transcends convenience and becomes an integral part of your overall travel journey.
Limousine Service Jacksonville Airport
For those desiring the ultimate in luxury transportation, our limousine service is second to none. Whether it's a special occasion, a business event, or simply treating yourself to a lavish experience, our limousines provide a lavish and opulent ride that makes you feel like a VIP. While our limousines are perfect for special occasions, they are equally suited for elevating everyday moments into extraordinary memories. The sheer extravagance of our limousine service allows you to indulge in the exceptional, whether it's arriving at a gala event in style, impressing clients with unparalleled transportation, or treating yourself to a journey that redefines what it means to travel in opulence. At AA Limo Worldwide, our commitment to excellence is opitomized by our limousine service, where every detail has been meticulously orchestrated to offer a ride that is beyond compare. It's more than transportation - it's an immersive experience that encapsulates the essence of luxury, leaving you with a sense of grandeur that lingers long after the journey ends.
Why Choose AA Limo Worldwide's Airport Transportation Service For Jacksonville Airport?
AA Limo Worldwide's Jacksonville Airport Transportation Service goes beyond just transportation. It's about creating an experience that leaves a lasting impression. We prioritize attention to detail, ensuring that every aspect of your journey is tailored to meet your expectations and preference
 By offering a range of options, from luxury sedans to limousines, we cater to diverse needs and preferences. Additionally, we provide anon-smoking environment to enhance the comfort of all passengers. Complimentary bottledwater and current newspapers add thoughtful touches that enhance the overall travel experience.
Our rates, often more competitive than traditional taxi cabs and shuttle services, ensure that luxury travel is accessible to a wider audience. This affordability, combined with our commitment to excellence, has earned us the trust and preference of both local Jacksonville residents and visitors from out of state.
In summary, AA Limo orldwide is not just a transportation service; it's a commitment to unparalleled luxury, professionalism, and customer satisfaction. We are dedicated to making your airport transfer a seamless and enjoyable part of your journey, whether you're traveling for business or pleasure.
Choose AA Limo Worldwide For Jacksonville Airport Transportation

Contact Us Today To Book Your Ride.